Senior Commercial Analyst
💼

HealthShare NSW
📅







REQ448856

Requisition #

Senior Commercial Analyst
Employment Type: Exempt Full Time (up to 12 months)
Position Classification: Health Manager Level 4
Remuneration: $137,173.00 - $163,431.00
Hours Per Week: 38

Location: 1 Reserve Road, St Leonards / Hybrid
The Opportunity

The Senior Commercial Analyst provides business line management with high level financial and commercial analysis and insights to support corporate level regulatory, business development, innovation and other investment opportunities.

Why Work for HealthShare NSW?
HealthShare NSW touches the lives of NSW Health employees and patients every single day by delivering services that keep our public hospitals and health facilities running.
Watch Our HealthShare NSW story video to learn more about the work we do and the diverse range of roles we have on offer.
We reward our employees with a terrific range of benefits, including:
· Flexible work arrangements: varied start/finish times, part time work and job sharing where applicable
· Hybrid working: enjoy a combination of working from home and the office
· Great leave conditions: enjoy one day off each month as an ADO, annual leave loading (a bonus extra payment of 17.5%) and 14 weeks' paid parental leave for eligible employees
· Salary packaging and novated leasing: you can access up to $2782 extra per year in your pay
· Wellbeing programs: discounted gym memberships and special rates on private health insurance
· Commitment to career development: Expansive free online training, talent programs, study leave and internal development opportunities to accelerate your career
Please note some benefits may only apply to certain employment types.
Further information on our wide range of benefits is available here.

Eligibility Requirements
· Meet essential requirements as outlined in the Position Description and ensure they are referenced in your resume or answers to targeted questions.
· 5-10 years of professional experience providing financial consultation, advice and reporting
· Experience applying knowledge of management accounting systems, processes and techniques relating to budgeting, reporting, financial analysis and the use of scenario analysis
· Experience understanding of change management principles
· Experience administering budget processes for a division / business area within a larger business group
· All our roles require candidates to have Australian work rights (Australian citizens, permanent residents, valid work visa). Only Australian citizens and permanent residents are considered for permanent roles, and we do encourage those on a visa to apply for our temporary and casual roles.
· This is a NSW Health Category B position. You will be required to complete the OASV Undertaking/ Declaration Form during the recruitment process. Please upload this with your application.

How to Apply
· Click Apply Now at the top of the page
· Attach your resume and provide answers to the Targeted Questions below.
· To find out more about applying for jobs with HealthShare please view our resource: Your Guide to Employment with HealthShare NSW.
Targeted Questions
· Give an example of when you had to stand your ground on an ethical, functional (finance) or an advisory position and challenge senior stakeholders to influence an important business decision. Ideally the context will be relevant to a complex service delivery environment.
· Describe a time when you have been involved in or led the generation and implementation of costing and driver-based models for budgeting and forecasting in an operating and capital expenditure environment.
· Our Finance team is in the process of establishing improved governance and control. Describe a time when you have been involved in or led your stakeholders and customers through such a change? What were some of the challenges and how did you overcome them?
Any role related questions can be directed to the hiring manager Kaushaliya Kumar via kaushaliya.kumar@health.nsw.gov.au
We are Diverse and Inclusive
We welcome applications from all ages and genders, Aboriginal and Torres Strait Islander peoples, culturally and linguistically diverse groups, the LGBTIQ+ community, veterans, carers, and people with disability. If we can offer some support or make some adjustments to our recruitment/interview process to better enable you to shine, please contact the Diversity and Inclusion Team HSNSW-Diversity@health.nsw.gov.au and let us know.
Further information on how we support Diversity & Inclusion at HealthShare NSW can be found here.
COVID-19 Vaccination Compliance
All NSW Health workers must provide evidence of a COVID-19 primary vaccination course (2 doses) which have been approved or recognised by the Therapeutics Goods Administration (TGA). New applicants must have completed the COVID-19 vaccination course prior to commencement with NSW Health or provide an approved medical contraindication certificate.
Acceptable proof of vaccination is the Australian Immunisation Register (AIR) Immunisation History Statement or AIR COVID-19 Digital Certificate if received in Australia, or overseas records from a legitimate source.
Talent Pool
An eligibility list from this recruitment may be created for future casual, permanent, or temporary full-time or part-time positions within the next 6 months.
Applications Close: Sunday, 3rd December 2023
Need more information?
1) Click here for the Position Description
2) Find out more about applying for this position
For role related queries or questions contact Kaushaliya Kumar on Kaushaliya.Kumar@health.nsw.gov.au

Applications Close: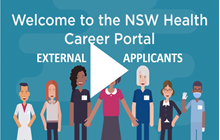 My Profile
Create and manage profiles for future opportunities.
Go to Profile