Newborn Hearing Screener - Wollongong Hospital and Shoalhaven District Memorial Hospital
📁

Allied Health Assistants
💼

Illawarra Shoalhaven Local Health District
📅







REQ331782

Requisition #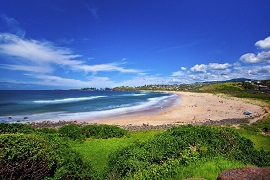 Employment Type: Permanent Part Time
Position Classification: Allied Health Assistants
Remuneration: $27.14 per hour
Hours Per Week: 20 (see below for further details)
Requisition ID: REQ331782
Applications Close: Sunday 21st August 2022

An exciting opportunity exists for an Allied Health Assistant to join the Newborn Hearing Screening Program at Wollongong Hospital and Shoalhaven District Memorial Hospital.
Two 5 hour shifts are based at Wollongong Hospital, 10 hours per week and two 5 hour shifts at Shoalhaven Hospital,10 hours per week. In total, 20 hours per week across both sites.
Where you'll be working
Wollongong Hospital is the Illawarra and Shoalhaven's major referral and teaching hospital and has bed base of more than 500. The campus, which incorporates the Illawarra Regional Cancer Care Centre, provides a comprehensive range of inpatient, outpatient and community-based services.
Wollongong is located an hours drive south of Sydney on a narrow coastal strip bordered by the Royal National Park to the north, Lake Illawarra to the south, the Tasman Sea to the east and the Illawarra Escarpment to the west. Learn more about the lifestyle benefits of living and working in Wollongong.
The Shoalhaven area is one of the fastest growing areas of NSW with over 5,000 new residents making the move here every year. The area has plenty to offer with the beautiful beaches of Jervis Bay, rainforests of Kangaroo Valley and tourist townships like Berry, all within 30 minutes' drive. For more information on the Shoalhaven Region you can visit this website: https://www.shoalhaven.nsw.gov.au/Discover-Shoalhaven
Shoalhaven Hospital is a busy rural hospital which employs over 1,000 staff and is the main acute care hospital for the Shoalhaven region, providing emergency care, medical, surgical and orthopaedic services. Shoalhaven Hospital has an Intensive Care Unit focusing on high dependency and coronary patients, Children's Ward and Maternity Unit as well as a purpose-built regional Cancer Care Centre and sub-acute Mental Health Unit. For more information on Shoalhaven Hospital, click here.
The values of the Illawarra Shoalhaven Local Health District guide the behaviour and professional standards of our staff and underpin the ways in which we engage with our patients and consumers. Our CORE Values are Collaboration, Openness, Respect and Empowerment.
Illawarra Shoalhaven Local Health District is committed to equal employment opportunity and embraces diversity and inclusion within its workforce. As such, people from diverse backgrounds are encouraged to apply. This includes but is not limited to Aboriginal and Torres Strait Islander People, People with Disability, Women and People from Culturally and Linguistically Diverse backgrounds.
Visit our ISLHD Youtube Channel to see our people and location in action and follow us on Twitter and Facebook to stay up to date @IllaShoalHealth.
Successful applicants to the role must provide certified documentation of vaccination history and pathology as part of their recruitment documentation. The applicant must be certified as compliant with https://www1.health.nsw.gov.au/pds/Pages/doc.aspx?dn=PD2020_017 before employment can commence.
An eligibility list will be created for future Temporary and Permanent Part-Time positions.
Please note: Employment of a temporary visa holder may only occur if no suitable permanent resident or citizen of Australia has been identified for this position following suitable labour market testing.

Criminal record checks will be undertaken on successful applicants. This position is designated as child-related employment and you will be required to obtain a Working With Children clearance from the Office of the Children's Guardian. To apply, please go to https://wwccheck.ccyp.nsw.gov.au/Applicants/Application#
Your claim against the selection criteria is the most important part of your application as it will help determine whether or not you have met the standard of response required by the panel to be eligible for an interview. You should read the Position Description and then address the selection criteria for the role, giving examples where required. Applicants are encouraged to review the following information on Applying for a position within NSW Health at: http://www.health.nsw.gov.au/careers/guide/nswhealth/Pages/apply-for-position.aspx
What you'll be doing
The aim of the State-Wide Infant Screening-Hearing (SWISH) program is to screen all newborn infants for hearing loss in their first few days of life prior to discharge home from their birth hospital.

Under the supervision of the Area Manager SWISH Program, the Hearing Screener provides initial and subsequent hearing screening of newborn babies. The aim of the program is to screen all newborn infants for hearing loss as soon as possible after birth.

The Hearing Screener's role involves direct handling of newborn babies and contact with parents. It entails working in clinical settings, which may include a ward, special care nursery, outpatient department or community health centre.
The Hearing Screener gathers and accurately records clinical and screening information relevant to the health hearing process. The Hearing Screener will be required to deliver accurate and sensitive information to parents/carers and will have excellent communication skills.
All NSW Health workers are required to have completed a primary course of a TGA approved COVID-19 vaccine prior to commencement with NSW Health OR provide an approved medical contraindication certificate. You will be required to show proof of your COVID-19 vaccination status prior to securing this role. Please also provide proof of booster vaccination, if available.
Selection Criteria:
Demonstrated effective interpersonal, written and verbal communication skills

Demonstrated previous experience working with newborns, babies and/ or children, preferably in a health care setting

Demonstrated ability to work independently and as a member of a multi-disciplinary team

Demonstrated ability to prioritise workload and complete tasks/ activities

Demonstrated computer literacy skills

Knowledge and understanding of Work Health and Safety legislation and principles

Current NSW Class C driver's licence
Need more information?
1) Click here for the Position Description
2) Find out more about applying for this position
For role related queries or questions contact Tracy McDougall on Tracy.McDougall@health.nsw.gov.au